EuroLithuania!
1
Jan
2015
Lithuania is the 19th European state to adopt the continental currency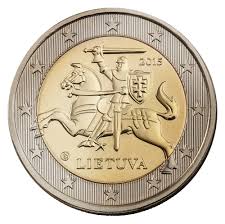 .
The euro gives the country more freedom in negotiating business with Russia, said Valdas Adamkus, who was president of Lithuania for about a decade until 2009. It provides an extra measure of geopolitical security.
At 0.4 percent, its inflation rate is just a hair above the euro zone average of 0.3 percent, and its 9.5 percent unemployment rate is right in the middle of the pack, and comfortably below the zone average of 11.5 percent. Lithuania's 1.3 percent real GDP growth rate beats both of its Baltic partners and is again well above the -2.2 percent Euro Zone average.