The race for the Arctic goes on.
17
Mar
2010
 The Arctic belongs also to Russia. Restrictions on Moscow's access to the development of hydrocarbon fields in the Arctic, which accounts for over 25% of global oil and gas reserves, is unacceptable, President Dmitry Medvedev said at a session of the presidential Security Council.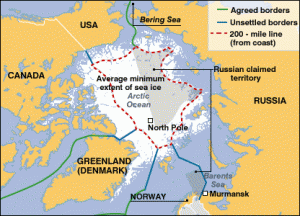 "We have seen attempts to limit Russia's access to the exploration and development of Arctic deposits which is of course unacceptable from a legal point of view and unfair from the point of the geographical location and the very history of our country," Medvedev highlighted and stressed that "polar countries are taking active steps to expand their economic and even military presence in the Arctic zone."
The five Arctic nations — Canada, Denmark, Norway, Russia and the United States — are locked in a tight race to lay claim to vast riches believed to be hidden beneath the ice and snow in the Arctic.  They have claimed overlapping parts of the region estimated to hold 90 billion untapped barrels of oil. Under international law, each of the five Arctic Circle countries has a 322-kilometer (200-mile) exclusive economic zone in the Arctic Ocean.
 Medvedev did not specify which nations his comments were addressed to. Russia claims a large part of the Arctic seabed as its own, arguing that it is an extension of its continental shelf. Moscow has undertaken two Arctic expeditions – to the Mendeleyev underwater chain in 2005 and to the Lomonosov Ridge in the summer of 2007 – to support its territorial claims in the region.
It first claimed the territory in 2001, but the United Nations demanded more conclusive evidence.
Russia has said it will invest some 1.5 billion rubles ($50 million) in defining the extent of its continental shelf in the Arctic in 2010.
 In 2008, Medvedev signed an Arctic strategy paper saying that the polar region must become Russia's "top strategic resource base" by the year 2020.
The document called for strengthening border guard forces in the region and updating their equipment, while creating a new group of military forces to "ensure military security under various military-political circumstances. "It said that by 2011 Russia must complete geological studies to prove its claim to Arctic resources and win international recognition of its Arctic borders.
 The Kremlin is officially against any arms race in the Arctic. In summer 2009 Denmark announced its plans to establish an Arctic military command and a task force.
MAP By BBC