Lithuanian police have arrested five people after a tomb containing the heart of Polish national hero Jozef Pilsudski was vandalised in Vilnius on November 24th. The bunch of thugs also draped a banner with the words "Poles die" and left a box with "attention bomb" and "TNT" written on it.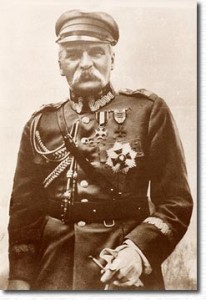 The Polish ambassador in Vilnius, Janusz Skolimowski said he has received assurances that security will be stepped up at the Rossa Cemetery. Pilsudski was born in Zulow near Vilnius, then part of the Russian empire, in 1887. After his death in 1935 his body was buried in Krakow, while his heart was taken to Vilnius.
  At the same time, the Vremya news magazine on Russian Channel One reported that in 1953, when Polish authorities decided to dig up the remains of Russian soldiers who died fighting Nazi German forces in Kostrzyn nad Odra in western Poland, so as to re-bury them in large cemeteries around the country, they did so by only partially removing all the body parts.
Last October a research dig found that 102 out of 110 bodies had been re-buried with their skulls or other parts missing.
The Russian news programme claimed the "barbaric" exhumations showed a "monstrous lack of respect for the dead" and reported that Russian authorities had called on Poland to give a full explanation as to why the bodies of "soldiers who liberated Poland from Nazi Germany" were shown so little respect.
"Standards in 1953 differed significantly from those of today," Adam Siwek from Poland's state-backed Council for the Protection of Struggle and Martyrdom has already answered.
Source: Polish Radio