Russia has suspended the Cold War-era Intermediate-range Nuclear Forces Treaty (INF)  after a similar move by the United States. President Vladimir Putin said Russia will start work on creating new missiles, including hypersonic ones, and told ministers not to initiate disarmament talks with Washington.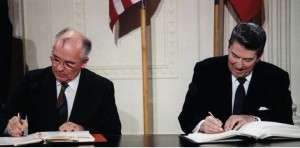 Foreign Minister Sergei Lavrov accused the United States of violating the INF and other arms deals, such as the non-proliferation treaty.
The Americans say they have evidence that a new Russian missile falls within the 500-5,500 km range banned by the treaty. Some US officials have said that a number of 9M729 missiles – known to Nato as SSC-8 – have already been deployed.
 President Putin said Moscow would not get dragged into an expensive arms race, and would not deploy short- and medium-range missiles unless US weapons were deployed there first.
Such an arms race would be a major concern for European countries.
 The price tag to recapitalize and sustain aging U.S. missiles, subs and bombers is already well in excess of $1 trillion over the next three decades.
  Signed in 1987 by the US and USSR, it banned the use of short and medium-range missiles except sea-launched weapons by both countries. China and other countries are outside the INF treaty.
Last January the Chinese Global Times newspaper wrote that the Army had carried out an exercise with an intermediate-range 'ship killer' missile called DF-26. According to the Pentagon Beijing has 16 to 30 intermediate-range ballistic missiles, capable of controlling the South China Sea and of targeting US large ships and US naval bases in the western Pacific region.