Some 3,000 actors have brought to life the 1410 Battle of Grunwald on its 607th anniversary to a crowd of 60,000, making it one of Europe's largest medieval re-enactments.
 King of Poland Wladyslaw Jagiello commanded an allied Polish-Lithuanian army to defeat the Teutonic Order, previously considered invincible.
It is considered to be one of the most glorious and significant military victories in Polish history.
 Группа доктора технических наук Евгения Яковлева в ноябре 2016-го провела полевые исследования резервных подземных источников питьевой воды на территории, контролируемой Украиной, а в самопровозглашенной ДНР такие же замеры произвели специалисты ГК «Вода Донбасса». Резервные источники воды — это зарегистрированные подземные водные горизонты, которые при советской власти нашли и учли. Эти источники предполагалось открыть в случае ядерной войны или других бедствий. Так вот, 88% этих «водных запасов» на Донбассе стали непригодны для питья. Ученые решили, что это происходит из-за повсеместного подъема шахтных вод, которые перестали откачивать и очищать в разбитых, закрытых или обесточенных войной шахтах. Шахтная вода в больших количествах поступает и в Северский Донец….
Статья – Дмитрий Дурнев "Московский комсомолец" №27440 от 12 июля 2017 – Dmitrij Durnev Moskovskij Komsomolets.
 Dopo lo "spirito di Lubiana" del 2001 con George W. Bush, adesso è venuto il momento della giusta "chimica" e del "dialogo lavorativo" con Donald Trump.
Vladimir Putin è apparso più padrone della scena del collega americano, troppo preoccupato di fare passi falsi e di ingigantire ulteriormente il pericolosissimo per lui "Russiagate".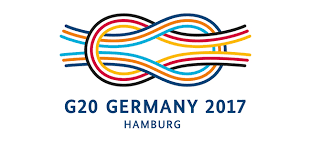 Al G20 di Amburgo russi ed americani hanno iniziato una specie di politica reciproca dei piccoli passi per uscire dal presente empasse. Vladimir Putin e Donald Trump hanno tremendamente bisogno l'uno dell'altro e non possono permettersi di perdere altro tempo.
Il russo per far uscire il suo Paese dall'isolamento internazionale post annessione della Crimea e per vincere in carrozza le presidenziali di marzo 2018; l'americano per rilanciare la sua leadership, all'apparenza appannata, in Occidente e di conseguenza avere dei benefici sul fronte interno.
Così i primi passi significativi insieme sono stati il cessate il fuoco in Siria e l'apertura di canali diretti su Ucraina e sicurezza informatica. Chiaramente tutto era già stato accuratamente preparato in precedenza dagli sherpa e i due leader hanno soltanto dato il definitivo placet.
Molto più importante era, invece, mettere le basi di un solido rapporto personale, che potrebbe influenzare gli scenari globali perlomeno per i prossimi tre anni e mezzo.
Non ci si faccia, tuttavia, troppe illusioni. Oggi, rispetto ad allora, la situazione è decisamente molto più intricata con l'orso russo che ha tirato fuori gli artigli per difendere i propri interessi strategici, con la potenza americana in ritirata e con l'emergere di nuove realtà regionali.
gda