Anti-government protests triggered by the tightening of Poland's strict abortion law took place.
People in many cities again disregarded a virus-control restriction limiting public gatherings to no more than five people. Marches, some of them held in silence, were organized Sunday in the cities of Szczecin, Wroclaw, Krakow, Lodz, but not in the Polish capital of Warsaw, where some 100,000 protested Friday.
Hundreds of thousands of Poles, mainly young, have been protesting daily against the right-wing government and the ruling Law and Justice party since the country's constitutional court ruled Oct.22 to overturn a provision of Poland's abortion law that permitted abortions of fetuses with congenital defects.
Tajikistan's President Emomali Rahmon has been re-elected with 90 per cent of the votes.
Around 85 per cent of the country's five million eligible voters handed in their ballots, according to authorities.
Rahmon, 68, has led the mountainous, former Soviet republic bordering China and Afghanistan for nearly three decades.
Kyrgyzstan's electoral body said it has canceled the results of a disputed parliamentary vote that plunged the Central Asian nation into violence and political chaos. The ex-Soviet nation's Central Electoral Commission said in a statement that it had "invalidated the election results" which saw parties close to President Sooronbay Jeenbekov score big wins amid accusations of mass vote-buying campaigns.
Fierce fighting erupted in Nagorno-Karabakh, in the Caucasus region. The enclave is recognised as part of Azerbaijan, but has been controlled by ethnic Armenians since a war ended in 1994.
The latest intense fighting began on Sunday with both Armenia and Azerbaijan blaming each other for the escalation.
 Turkey has already declared its support for Azerbaijan, while Russia – which has military bases in Armenia but is also friendly with Azerbaijan – called for an immediate ceasefire.
Karabakh is the Russian rendering of an Azeri word meaning "black garden", while Nagorno is a Russian word meaning "mountainous". Ethnic Armenians prefer to call the region Artsakh, an ancient Armenian name for the area.
Opposition leader Alexei Navalny is in a coma in a Siberian hospital after suffering an apparent poisoning. A hospital representative in the Siberian city of Omsk told the famous blogger is connected to a ventilator and in critical condition. All necessary tests were being taken.
"We suspect Alexei was poisoned with something mixed into his tea. It was the only thing he drank all morning," Navalny's spokeswoman Kira Yarmysh wrote on Twitter. "Doctors said that the toxin was absorbed more quickly through hot liquid." Navalny fell ill during a flight from the Siberian city of Tomsk to Moscow. 
Monday marked exactly 100 years since Polish cardinal Karol Wojtyła, who in 1978 became Pope John Paul II, was born in the southern Polish town of Wadowice.
In a special message to mark the anniversary, President Andrzej Duda said that John Paul II, who led the Roman Catholic Church until his death in 2005 and was declared a saint in 2014, was a "defender of fundamental moral values and the Christian identity of Europe."
The Polish-born pope "built bridges in a world troubled by divisions and conflicts," Duda also said.
He added that John Paul II's "teachings and testimony still touch the hearts and minds of millions of people around the world, providing an inspiration for many religious, social, scientific and cultural initiatives."
Duda also said in his message that Karol Wojtyła was a man of deep faith who "looked ahead with hope into the future of Poland, Europe and the world."
While "shaping this future, we will always remember the greatest among us—the pope of freedom and solidarity," Duda said.
Source: Polish Radio

  Fifteen years after the Andijon massacre in Uzbekistan, rights activists have urged the Central Asian country's leadership to openly investigate the killings of dozens of mainly peaceful demonstrators by security forces and armed soldiers in the eastern city.  The Sweden-based Civil Rights Defenders group said 15 years to the day of the massacre, that no state or army official was held responsible for "brutally" suppressing the civilian protest in the city of Andijon."
Source: RFE/RL
 Poland has marked the 10th anniversary of the plane crash that killed President Lech Kaczynski and 95 others. A large number of Poles, including President Andrzej Duda, suspect that the crash was not caused by pilot error, as concluded in an investigation by Poland's previous centrist government, but by foul play. "After 10 years, it's difficult to say anything or predict whether the case can ever be resolved," said Duda, after visiting Kaczynski's grave in Krakow. "We don't have basic evidence, the wreckage is still in Russia, the black boxes are still in Russia." Poland's foreign ministry said in a statement that it had renewed demands that Moscow returned the wreckage of the ageing Tupolev aircraft. "There are no provisions in international law that allow Russia to withhold Polish property," it said.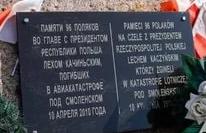 Russian authorities said that there is no evidence of an explosion on board the plane, as some in Poland allege. Russia's Investigative Committee said in a statement that crew errors led to the accident. "The aircraft collided with a tree trunk at a height of about 11m," it said. "As a result of the detachment of part of a wing, the aircraft began to rotate and after a few seconds fell to the ground in an upside down position."  President Kaczynsky and 95 highest-ranking officials were on their way to commemorate the Katyn massacre. The Katyn forest, alongside Mednoye, Kharkiv, Bykivnia and Kuropaty, is where a terrifying act of mass executions was carried out by the Soviet authorities in the spring of 1940. It took more than 22.000 lives of prisoners of war and imprisoned civilians, members of the country's elite.
"We have managed to win time and slow down an explosive spread of the disease in the previous weeks, and we need to use that time reserve to the full," Vladimir Putin said.
 The Russian president has declared that only people employed by essential sectors should work, leaving it to regional authorities to spell out the details. Moscow Mayor Sergei Sobyanin followed up by ordering Muscovites to stay home.
 Russia took early steps to counter the outbreak, closing the borders with China and then barring access to Chinese citizens in February, when China was still the world's hottest coronavirus spot.
Source: AP
The presidents of Turkey and Russia formally launched the TurkStream pipeline which will carry Russian natural gas to southern Europe through Turkey, part of Moscow's efforts to reduce shipments via Ukraine.
The pipeline project, stretching 930 kilometers (580 miles) across the Black Sea, reinforces strong energy ties between Moscow and Ankara
TurkStream directly connects the large gas reserves in Russia to the Turkish gas transportation network, to provide reliable energy supplies for Turkey, south and southeast Europe.
The offshore component of the system consists of two parallel pipelines running through the Black Sea. The pipelines enter the water near Anapa, on the Russian coast, and come ashore on the Turkish coast in the Thrace region, near the town of Kiyikoy (20 Kms from the Bulgarian border).
Russian gas producer Gazprom will ship about 3 billion cubic meters (bcm) of gas per year to Bulgaria via TurkStream, replacing a route that formerly passed through Ukraine and Romania.
Gazprom shipped about 3 bcm to Greece and about 500,000 mcm to North Macedonia via that route in 2019.
Russia is building TurkStream in two pipelines, each with an annual capacity of 15.75 bcm. The first pipeline will supply Turkey and the second will extend from Bulgaria to Serbia and Hungary. Bulgaria hopes to be able to make shipments to Serbia by May 2020 and build the whole section by year-end.