Belarus, More sanctions against Lukashenko's regime.
23
Mar
2012
  The European Union foreign ministers on March 23 decided to impose sanctions on a further 12 Belarusians, including businesspeople, and 29 Belarusian companies to punish the Lukashenka regime for the repression of political activists and civil society representatives, BelaPAN said.
In particular, the EU Council added the 12 persons to the 27-nation bloc' list of those targeted by a travel ban and asset freeze, reported euroalert.net. They include individuals benefiting from or supporting the regime, as well as persons responsible for the repression of civil society and the democratic opposition in Belarus.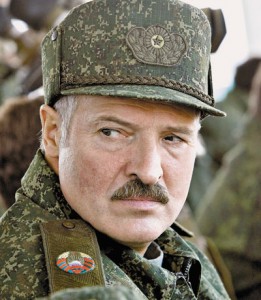 In addition, the EU Council froze the assets of 29 entities, which are controlled by persons subject to restrictive measures due to their role in supporting the regime.
"I am extremely concerned about what is happening with the civil society," said Catherine Ashton, the EU's high representative for foreign affairs and security policy, speaking ahead of the EU Council's meeting in Brussels. "We have been extremely clear about the regime in Belarus that they release political prisoners. We would like to engage with them when they comply with what we have asked them to do."
In an interview with the government`s news agency BelTA earlier this week, Andrey Savinykh, spokesman for the Belarusian foreign ministry, said that the EU should stop using pressure against Belarus if it wanted to "settle existing differences."
Both Belarus and the EU will benefit from a "mutually acceptable settlement" of them, said Mr. Savinykh.
"The EU should in the first place drop the practice of reinforcing its sanctions on a regular basis," said the spokesman. "The point is not about whether the sanctions are efficient. What is important is that this practice rules out the possibility of bringing sensibly and reasonably the positions closer to each other."
On January 31, 2011, the EU Council imposed asset freezes and travel bans on 156 Belarusian government officials and other individuals for their role in "the violations of international electoral standards" in the December 14-19, 2010 presidential election and a post-election crackdown on civil society and pro-democratic supporters. The Council blacklisted more Belarusians later, placing on the list judges and prosecutors involved in the prosecution of post-election protesters, as well as the judge and the public prosecutor in the trial of prominent human rights defender Ales Byalyatski.
The EU Council`s Friday decision brought the total number of Belarusians on the blacklist to 234.
After the EU imposed travel bans and asset freezes on new Belarusian officials on February 27, the Belarusian foreign ministry "recommended" that the head of the EU delegation to Belarus and the ambassador of Poland to Belarus return to their capitals for consultations, while simultaneously recalling the country`s permanent representative in Brussels and ambassador in Warsaw.
All EU ambassadors have left Belarus since "in expression of solidarity and unity."
 Materials from BelaPAN, Naviny