Ukrainian President Petro Poroshenko in Brussels signed the Association Agreement with the European Union. The signing is a milestone. Whether history records June 27 as Ukraine's "most important day" since it regained independence in 1991—as Mr. Poroshenko suggested—remains to be seen. Much depends on implementation of the agreement.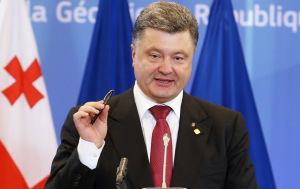 The economic pact comes months after deadly protests broke out this winter when then-Ukrainian president Viktor Yanukovych — ousted by demonstrators in February — decided not to sign the trade deal under pressure from Moscow.
Georgia and Moldova also signed association agreements with the EU in a move opposed by Russia. Georgia has already lost chunks of its territory and Black Sea coast to rebels backed by Russia after a brief war with Russia in 2008.
"There will undoubtedly be serious consequences for Ukraine and Moldova's signing," Grigory Karasin, Russia's deputy foreign minister, said.
The Association Agreement can be a game-changer for Ukraine. It includes a deep and comprehensive free trade arrangement (DCFTA) that will open much of the European market to Ukrainian exports. Implementation of the agreement will not only bring Ukraine's trade and customs rules into conformity with EU standards, it will help the country draw closer to EU democratic norms and "Europeanize" other Ukrainian regulatory regimes.
The Association Agreement lacks a membership perspective
For the European Union, signature of the association agreement with Ukraine (as well as signature of similar pacts with Georgia and Moldova) represents a significant step forward in its Eastern Partnership policy.
For the Kremlin, signature of the Ukraine-EU association agreement represents a setback. Vladimir Putin last December offered $15 billion in loans, with no overt strings attached, and a huge gas price cut to turn Ukraine away from signing.