World Cup 2018, the 11 Host Cities.
1
Oct
2012
 Eleven Host Cities and twelve stadiums have been selected to host the 64 matches of the 2018 FIFA World Cup Russia.
This was announced on 29 September 2012 at a ceremony with Russian Minister of Sport and chairman of the Russia 2018 Local Organising Committee (LOC), Vitaly Mutko, and FIFA President Joseph S. Blatter, which was broadcast live on Russia's Channel 1 station.
Among the guests were FIFA Secretary General Jerome Valcke, LOC CEO Alexey Sorokin, Russia's national team coach Fabio Capello, as well as Brazil's FIFA World Cup champion Roberto Carlos.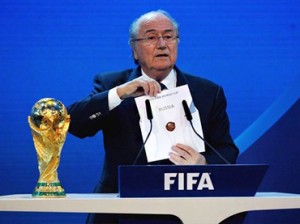 Having been divided into four geographical clusters, the Host Cities of the 2018 FIFA World Cup have been announced as follows: Moscow, the only city with two stadiums, namely Luzhniki and Spartak (central cluster); St. Petersburg and Kaliningrad (Northern cluster); Nizhny Novgorod, Kazan, Samara, Saransk and Volgograd (Volga cluster); Rostov-on-Don and Sochi (Southern cluster) as well as Ekaterinburg.
The FIFA Executive Committee had approved the venues at its meeting on Friday 28 September 2012 in Zurich. The decision on the general match schedule will be taken at a later date.
"The announcement of the Host Cities is the first concrete step taken in the delivery of the 2018 FIFA World Cup. They make a decisive contribution to the success of the most popular sporting event. We look forward to a productive partnership on our road to the first FIFA World Cup in Eastern Europe," said the FIFA President.
The early announcement of the 2018 FIFA World Cup Host Cities almost six years ahead of the event is a positive move as it allows the host country stakeholders to make a start on preparing the infrastructure to accommodate the football fans who will flock into Russia in 2018.
"The final selection of the 2018 FIFA World Cup Host Cities is an important milestone en route to hosting the tournament in 2018. This decision launches the full-scale preparation for the FIFA World Cup in the 11 Host Cities across the country," explained LOC chairman Vitaly Mutko.
"I believe all of them broadly represent the cultural and historical diversity of our nation. At the same time, their energetic nature and connection with Russian footballing tradition will allow the FIFA World Cup to leave a powerful and sustainable legacy in all of them."
The huge level of anticipation for 2018 was expressed by each Host City as they unveiled their poster at the same time as the announcement, the first time in FIFA history this has been done. To see all the posters and the city profiles please visit the official Russia 2018 website.
Source FIFA