Poland, Aftermath. A new Jewish pogrom film.
13
Nov
2012
"I am very happy that such a film was made in Poland" veteran director Andrzej Wajda  said after the film's press premiere in Warsaw.
Minister of Culture Bogdan Zdrojewski highlighted that: "I admire the courage in taking up such a difficult theme and analyzing, in a cinematic form, a dramatic episode in Poland's history".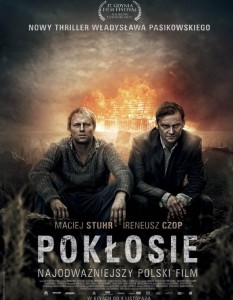 Aftermath is a Polish-Dutch-Slovak-Russian co-production.The cast includes several top Polish actors – Maciej Stuhr, Zbigniew Zamachowski and Jerzy Radziwiłowicz.
Inspired by the 1942 tragedy in which hundreds of Jews were burned alive in a barn, an event long blamed on Nazi Germany, "Poklosie" ("Aftermath") was directed by Wladyslaw Pasikowski.
"I wanted to tell a story that would interest a broad number of Poles because it is one of the most painful parts of our country's history," Pasikowski explained.  "We already have a huge number of films on the horrors committed by the Soviets and the Germans, and it's time to say what bad things we did ourselves."
The director was inspired by "Neighbours", a book by Polish-origin US historian Jan Tomasz Gross, which sent shock-waves across Poland after his publication in 2000.  The date of the massacre in the village of Jedwabne, some 190 kilometres  northeast of Warsaw, has entered Poland's remembrance calendar.