Sites at the 22nd Winter Olympic Games.
6
Feb
2014
 Here we are. On February 7th the XXII Winter Olympic Games start in Sochi. World's attention will be focused on the tracks in Krasnaya Polyana and on the rinks and stadiums in Imereti Valley.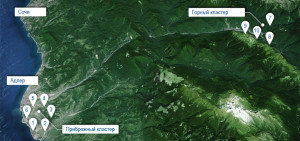 Russian newspaper "MK" has offered to its readers a plan of Big Sochi.
 The Olympic Games will be held in two clusters: the coastal and mountain. You can reach them on a specially designed electric train "Lastochka" which runs along the routes "Sochi – Olympic Park (Coastal cluster)" and "Sochi – Krasnaya Polyana" (Mountain cluster). "Lastochka" carries passengers to the airport, Matsesty, stations Esto-Sadok and Adler.
Coastal Cluster
1. Stadium "Fischt"
2. Palace "Iceberg"
3. "Adler-Arena"
4. "Ice Cube"
5. Palace "Bolshoy"
6. Arena "Shayba"
Mountain Cluster
7. Complex "Laura"
8. "Rose-farm"
9. Springboard complex "Russian hills"
10. Center Luge "Sledge"
Nearby Touristic Places
Stalin's dacha,
Nature Museum of Sochi National Park,
Mountain Ahune,
Kennel monkeys Adler,
Sculpture "Horse in the coat",
Sochi Art Museum,
Friendship Tree.