Latvia, the centre-right governing coalition has won the elections.
6
Oct
2014
A party mainly backed by ethnic Russians won the largest number of votes in Latvia's parliamentary elections this weekend, but is likely to be shut out of government after fears over a resurgent Kremlin dominated the campaign.
The Harmony party, led by the mayor of Riga, Nil Ushakov, won 23% of the votes in the elections, while the coalition of three current ruling parties had 56% between them.
At the last elections in 2011, the Harmony Centre Party won with 28 per cent of the vote, although it was kept out of a coalition government of ethnic Latvian parties.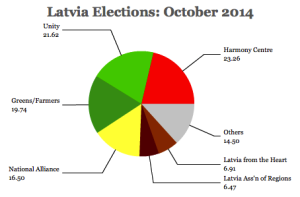 The annexation of Crimea in March has left the party in a delicate position. Many of its core supporters get their news from Russia, and as a result there is a strong pro-Moscow leaning. SKDS found that 36 per cent of the community supported Russia's actions in Crimea. "Therefore they cannot criticise Russia even if it is obvious that Russia is supporting military actions [in Ukraine]," says Elizabete Krivcova of activist group Non-Citizens Congress, who also stood as a candidate for the Harmony Centre Party in May's European Parliament elections.
The leftist Harmony party, allied with Russian President Vladimir Putin's United Russia party, won only 24 of 100 seats, down from 31 in the outgoing assembly, full official results showed Sunday.
The three parties in Prime Minister Laimdota Straujuma's centre-right governing coalition secured a sound 61-seat majority, which could rise to 69 with a fourth party possibly joining in.
In the outgoing parliament formed after the last polls in 2011, a four-party coalition held 63 seats.
Under the constitution the new parliament will open on November 4.
Concern is running high over the impact that tit-for-tat sanctions between Moscow and Brussels over the Ukraine crisis could have on this tiny Baltic state, which is heavily reliant on trade with Russia.
Latvia made a spectacular recovery from the world's deepest recession in 2008-09, when output shrank by nearly a quarter during the global financial crisis.
A painful austerity drive by a centre-right government then paved the way for entry into the eurozone in January.
The sacrifices paid off, and growth in Latvia topped the 28-member EU for a third consecutive year in 2013, with a 4.0 percent expansion.