Farewell to the legendary Viktor Tikhonov.
24
Nov
2014
  Russian ice hockey coach Viktor Tikhonov has died at the age of 84.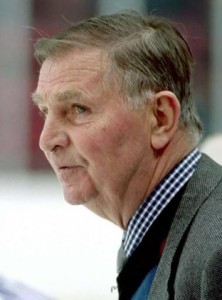 Tikhonov coached the Soviet Union to gold at the 1984, 1988 and 1992 Winter Olympics and passed away after a long-term illness.  He is also remembered as the coach of the USSR team that lost the 'miracle on ice'  game against the United States in the semi-finals of the 1980 Games. Tikhonov guided the Soviet Union to eight world championships between 1978 and 1990.
As a player, Tikhonov won four Soviet titles between 1951-54 and guided CSKA Moscow to 13 consecutive Soviet titles between 1977 and 1989.
  "The entire global hockey community has lost a great coach," Vladislav Tretiak, who played goalie for Tikhonov's Soviet team and now heads the Russian Hockey Federation, told Russia's R-Sport news agency. Tikhonov's funeral will take place on Thursday with a memorial service at CSKA Moscow, Russian media reported.