Putin, "Efforts to contain Russia have failed". Here are our new weapons.
1
Mar
2018
President Vladimir Putin used his annual state of the nation speech to threaten Western nations with a battery of new weapons including an intercontinental nuclear cruise missile and to assure Russians that their lives would improve through enormous new social spending.
Gleb Pavlovsky, a political analyst and former Kremlin consultant, wrote on Facebook that, "From tales about progress, the speech flowed into an open-ended declaration of world war."
"We would consider any use of nuclear weapons against Russia or its allies to be a nuclear attack on our country," Mr. Putin said. "The response would be immediate."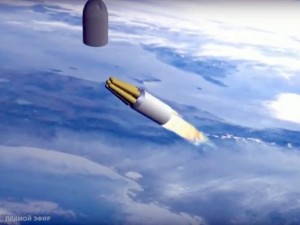 Mr. Putin said that Russia had tested various new nuclear weapons, including a nuclear-powered missile that could reach virtually anywhere in the world and that could not be intercepted by existing antiballistic missile systems. A video illustrating the weapon, which he said was tested at the end of 2017, showed it leaving Russia, slaloming around obstacles in the South Atlantic, before rounding Cape Horn at the tip of South America and heading toward the west coast of the United States.
"We're not threatening anyone," Putin said. "Russia's growing military might is a reliable guarantee of peace on our planet because it ensures the strategic balance in the world."
"Giving half the time in the annual address to the Russian parliament to a graphic description of new weapons' capabilities is a measure of how close the U.S. and Russia have moved toward military collision," Dmitri Trenin, head of the Carnegie Moscow Center, wrote on Twitter. "For the foreseeable future, it looks that the U.S.-Russia agenda will be limited to just one item: war prevention. Good luck to us all."
See also The Moscow Times, YouTube, DW.