Volodymyr Zelensky, new Ukrainian president.
21
Apr
2019
 Mr Zelensky has taken more than 73% with incumbent Petro Poroshenko trailing far behind on 24%, the Electoral Commission reported.

"I will never let you down," the new president told celebrating supporters.
Mr Poroshenko, who admitted defeat after the first exit polls were published, has said he will not be leaving politics. He told voters that Mr Zelensky, 41, was too inexperienced to stand up to Russia effectively.
 Mr Zelensky, a political novice, is best known for starring in a satirical television series Servant of the People, in which his character accidentally becomes Ukrainian president. He plays a teacher who is elected after his expletive-laden rant about corruption goes viral on social media.
He ran under a political party with the same name as his show. With no previous political experience, Mr Zelensky's campaign focused on his difference to the other candidates rather than on any concrete policy ideas.
 Experts say his supporters, frustrated with establishment politicians and cronyism, have been energised by his charisma and anti-corruption message.
SHORT BIOGRAPHY
Volodymyr Zelensky was born in 1978 in Kryvyi Rih (Dnipropetrovsk region) into a family of the Russian-speaking Jewish intelligentsia, the only son of Oleksandr and Rimma. His father is a trained mathematician in cybernetics (his doctorate comes from the Moscow State Mining University), and head of the Department of Computer Science and Applied Programming in the Kryvyi Rih Economic Institute (a branch of the Vadym Hetman National Economic University in Kyiv). His mother is an engineer by training, now retired.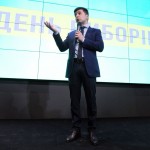 Zelenskiy studied Law at the Kryvyi Rih Economics Institute, but never entered the profession. According to available information he has never served in the army. He married Olena Kiyashko (b. 1978), a friend from high school who graduated in architecture from the Kryvyi Rih Economics Institute. They have two children, Oleksandr (b. 2004) and Kyryl (b. 2013). His wife is his artistic collaborator, a co-owner of part of his property, and a screenwriter for television and cabaret.
In 1997, he and his friends founded their own cabaret Kvartal-95, in which he still performs today. Two years later the group was invited to perform on KVN's Premier League, a very popular cabaret programme on Russian television, and began performing in many post-Soviet countries. During this time Zelenskiy lived in Russia for six years. After 2006 he expanded his business in the entertainment industry, and together with his friends from college Boris and Serhiy Shefir, they founded the Studio Kvartal-95 company. In 2013, the Ukrainian edition of Forbes put him top of the 25 richest celebrities and sports stars in Ukraine, and in 2010 the weekly Focus placed him fifth on the list of the most bankable showbusiness stars, He officially announced he was running for presidency on 31 December 2018.
Different Sources