Polonia: un Presidente euroscettico – 2005
19
Aug
2009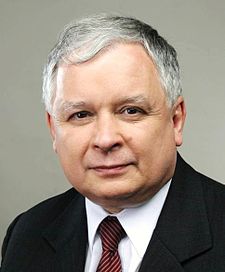 Intervista al presidente Lech Kaczyński – Ottobre 2005
Varsavia. Lech Kaczyński ed il gemello Jarosław sono stati innegabilmente i due grandi personaggi di questa interminabile tornata elettorale polacca, iniziata con le legislative del 25 settembre e proseguite con il primo turno delle presidenziali il 9 ottobre scorso. I due fratelli conservatori hanno sbaragliato completamente la concorrenza.
Il più giovane – essendo nato 45 minuti dopo – è stato eletto capo dello Stato al ballottaggio del 23 ottobre contro il liberale Donald Tusk in uno scontro tutto in famiglia fra eredi di Solidarność, mentre il maggiore si è imposto alle parlamentari, ma ha rinunciato alla carica di primo ministro a favore del semisconosciuto economista Kazimierz Marcinkiewicz. "Due fratelli Kaczyński al potere sono troppo per la Polonia", hanno dichiarato di comune accordo.
 Chi ha lavorato con loro ha confidato che anche dopo anni è difficile riconoscerli. Lech è sposato ed ha una figlia, Jarosław invece non ha legami familiari. La loro carriera si è svolta all'ombra di Lech Walesa, che, tuttavia, ha appoggiato Donald Tusk insieme al presidente uscente Aleksandr Kwaśniewski.
 "Non è vero che mi hanno votato soprattutto nelle province e nelle zone rurali – dice il neoleader polacco -. E' un mito! Ampie fasce della società sono preoccupate dell'economia di mercato. Cambieremo questo atteggiamento. Tuttavia, non si può nemmeno negare che Donald Tusk abbia ottenuto considerevoli consensi nelle grandi città"1.
Quale sarà la prima decisione che prenderà da presidente della Polonia? "Prima di tutto sarà necessario che mi prenda un piccolo periodo di riposo"2.
In alcuni ambienti di Bruxelles Lei è stato descritto come un euroscettico. Quale è la sua posizione sui rapporti con l'Unione europea? "Sono contrario alla Costituzione Ue, ma sono stato favorevole all'adesione del mio Paese all'Unione europea, avvenuta il primo maggio 2004"3.
 A Varsavia si fa un gran parlare della cosiddetta "Dimensione orientale", ossia la politica estera da portare avanti nei confronti dei Paesi vicini ex sovietici. "Le ripeto. Sono per la piena partecipazione della Polonia all'Ue, ma sono anche per la difesa degli interessi polacchi"4.
A Kiev l'anno scorso, durante la rivoluzione arancione si è registrato quasi uno scontro tra l'Ue e Russia, tra Varsavia e Russia. Cosa succederà sotto la sua presidenza? In Ucraina e Bielorussia si voterà nella prossima primavera. "Per noi è importante definire una politica ferma da avere nei confronti di Mosca. Cerchiamo all'interno dell'Ue dei membri che ci aiutino a portare avanti insieme questo tipo di linea"5.
Giuseppe D'Amato
Interview to Mr. Lech Kaczyński, new Polish president – October 2005
 1. "It's not true that especially people from the countryside and from the provinces voted for me. It's a myth! Important parts of the Polish society are worried about market economy. We will change this attitude. However, we can't deny that Donald Tusk has obtained a considerable amount of votes in big towns".
"I need a period of rest" (before stepping in as the new president).
You have been described as an euro-sceptic. "I'm against the EU Constitution, but I was for the entry of Poland to the European Union on May 1st, 2004".
"I'm for the complete participation of Poland in EU, but I'm also for the defence of the Polish interests".
Relationship with Russia? "It's important for us to establish a firm policy towards Moscow. We are looking for EU members, who may help us to  carry on this political line".