Crimean Tatar Dzhemiliev, Solidarity Prize from Poland.
4
Jun
2014
The leader of the Crimean Tatars Mustafa Dzhemilev received the Solidarity Prize from Polish President Bronislaw Komorowski on the day the country marks 25 years since the end of communism.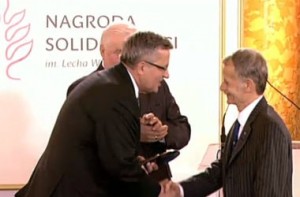 New Ukrainian President Petro Poroshenko, US secretary of State Kerry, Swedish minister of Foreign Affairs Bildt, former Polish President Lech Walesa took part at the ceremony.
Mustafa Dzhemilev was banned from entering Russian territory, including the recently annexed Crimea, after he condemned the March referendum.
On Monday evening Dzhemilev told Polish public television station TVP that the Crimean Tatars would continue to fight for their rights.
"We are not going to wage war against Russia, We have not shed anyone's blood, We will fight for our rights with peaceful means." he said.
Dzhemilev, like the vast majority of Crimean Tatars, was deported from his homeland in 1944, and he grew up in Uzbekistan, where he was involved in dissident activities. He returned to Crimea in 1989.
"For years, Mustafa Dzhemilev has been promoting democracy and civil rights and civil liberties in Ukraine, specifically among the Tatar community," Foreign Minister Radoslaw Sikorski said.
"The people of Ukraine made a very good choice, I have known Petro Poroshenko for many years," said Dzhemilev of the presidential elections of 25 May.
"He is a patriot, an honest man, even though a businessman. It is very important for me that he said that the most important matter is to free Crimea from the occupation. Without being released from the occupation, we cannot imagine how we will be able to live on," he added.
From Polskie Radio, TVP
Mustafa Dzhemilev's battle for Crimea – Deutsche Welle