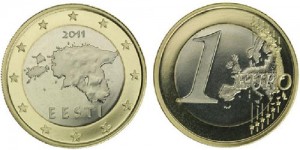 The dream has become reality. Estonia is now totally part of Europe after Tallinn's adoption of the Euro. The long path, begun in the Eighties of the 20th century when the Baltic republic was enclosed forcefully in the USSR, has come to the most cheerful happy end.
After getting its independence from the Kremlin in 1991 Estonia started moving westwards away from the dominance of its mighty neighbour. In 2004 Tallinn entered the European Union and NATO. But it was not enough for the young Estonian rulers. "We are at sea in a small boat tied to an ocean liner. In a storm or otherwise, we'd feel better being on board," explained the Estonian Minister of Finance Jürgen Ligi why his country had decided to become the 17th State to use the common currency.
And without any doubt for the Baltic state of 1.3 million inhabitants, being in the Eurozone club is preferable to uncertainty linked to its outgoing kroon currency and is seen as a way to attract further investment. "In Estonia we are also sure that the euro will support trade," Prime Minister Andrus Ansip told Reuters, pointing to gains for ordinary people. "Now people are just wasting their money in the currency exchange, why do they have to do that?" he said.
Estonia's debt and budget deficit are among the lowest in the Eurozone. To meet the common currency entry terms, Ansip's centre-right government made budget deficit cuts equal to more than 9 percent of GDP. Inflation also fell as the economy contracted nearly 14 percent in 2009 after a pre-crisis boom.
The European Commission raised in its fresh autumn forecast Estonia's economic growth forecast to 2.4% for the year 2010 and 4.4% for 2011. In 2012 the economy should grow 3.5%.
"The foreign policy goals of Estonia have been to embed itself in as many international organisations and clubs as possible, so that it will never find itself isolated or without friends ever again," Andres Kasekamp, director of the Estonian Foreign Policy Institute said. "Membership of the Eurozone will not only boost Estonia's economic prosperity, but will enhance security," he added.
But there are some sceptics. "Welcome to the Euro Titanic" is their slogan. "We are joining at the worst possible time and cannot be sure the Eurozone will exist in the same form as it does now. Even in 2011 there could be very big changes or reforms," said lawyer Anti Poolamets, who lead an anti-Euro campaign.