EAST EUROPE. Dal crollo del Muro alle nuove sfide 
Cahiers  n.1/2014
Numero monografico in onore di Renato Mieli, Dario Staffa, Pina D'Amato
A cura di Stefano Monti Bragadin e Giuseppe D'Amato
Presentazione
Eugenio Boccardo
Introduzione
Stefano Monti Bragadin
TESTIMONIANZE – TESTIMONIES
Lech Wałęsa: il mio 9 novembre 1989
Fulvio Scaglione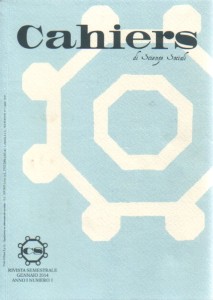 Tadeusz Mazowiecki: la Ddr era al capolinea
Luigi Geninazzi
François Fejtö: dal crollo dell'Urss alla globalizzazione
Almerico Di Meglio
Dmitrij Likhaciov: il Novecento, per fortuna, è finito!
Giuseppe D'Amato
L'Ostpolitik vaticana: modus vivendi, modus non moriendi
Francesco Strazzari
Oltre il muro si piange
Luigi Geninazzi
Un ospite dal passato
Stefan Scholl

GERMANIA – GERMANY
Gian Enrico Rusconi: la Storia sopra Berlino
Erminio Ferrari
The Berlin Republic: Evolution of Germany's Politics of Memory and German Patriotism
Krzysztof Zalewski
Zwanzig Jahre Friedliche Revolution Heutige Sichten der Ostdeutschen
Gunnar Winkler und Reinhard Liebscher
The German Vision of NATO's Future: the Alliance as a Building Block of Germany and Europe's Security
Justyna Gotkowska
CONVERSAZIONI – DIALOGUES
Luigi Bonanate e Marco Revelli: l'eredità del Muro, la lunga vita del secolo breve
Erminio Ferrari
James Bissett: anni Novanta, un decennio perso
Giuseppe D'Amato
Viktor Kremenjuk: verso un mondo multipolare
Giuseppe D'Amato

FERITE SANGUINANTI – BLEEDING WOUNDS
Rambouillet '99: trattativa o ultimatum?
Maurizio Cerruti
Polonia 2007: esqueletos en la memoria
Giuseppe D'Amato
Andrzej Wajda: Katyń, the Defeat of the Silence
Giuseppe D'Amato
UNIONE EUROPEA – THE EUROPEAN UNION
Unificazione monetaria europea e riforma dell'architettura finanziaria internazionale
Sergio Rossi

L'Europa fra euro-propositivi ed euro-scettici
Ugo Poletti
RUSSIA
Perché è crollata l'Urss: le «lezioni» di Egor Gajdar
Giuseppe Gatti 
The EU and Russia's Post-Soviet Economic Policy
Marco Fantini
The Ideology of Putinism
Anne Applebaum
La natura della Russia: Solgenitsin vs Pipes
Anna Rapotoueva
Come superare la crisi nazionale: riflessione sulla strategia di sicurezza della Russia
Viktor Kremenjuk
La Russie postsoviétique et ses frontières: bouleversements et ambiguïtés du rapport au monde extérieur
Ann de Tinguy
The New Great Game: a Breakthrough?
Aleksandra Jarosiewicz and Krzysztof Strachota
Il trust nell'ex Patria del comunismo
Giuseppe Lepore e Simona Peschiera

ALCUNE DELLE NUOVE SFIDE DEL XXI SECOLO – SOME OF THE NEW CHALLENGES IN THE 21st CENTURY
Arthur Chilingarov: the Arctic Race. Russia in Pole Position
Giuseppe D'Amato

Robert N. Huebert: the Militarization of the Arctic. The Canadian Point of View
Giuseppe D'Amato
Rod Lyon: l'Australia e il Pacifico nel XXI secolo
Giuseppe D'Amato
Is China a Rival or Partner? From the Japanese Perspective
Masafumi Iida

 US War on Terror and Indian Security Interest
Anand Kumar
Demography, Migration and Population Policies
Joseph Chamie
The New Appeal of Nuclear Energy and the Dangers of Proliferation
Oliver Thränert